Xanadu Surf & Yoga Boutique Retreat
A luxury eco-friendly surf and yoga retreat with a down-to-island vibe
Want to live the barefooted, carefree surfing lifestyle but also love the finer things in life? With elevated views over the dazzling Kuta Bay and modern amenities, this architecturally-designed space has all the trappings of a luxury surf resort but with a warm, down-to-island vibe. We're talking vaulted ceilings, natural sunlight and a design that blends the outdoor with the indoor, the traditional with the modern. It's kinda like a boutique hotel and a cruisy surf house rolled into one. And it's perfect for surfers seeking pampering in a glamorous tropical setting.
Twin Room
Sharing is Caring
A spacious room with two large twin beds, which is ideal for a couple of friends or solo travellers who don't mind sharing a room with someone else.
Superior King
Royal relaxation
Nobody will be feeding you grapes as you recline regally on a sofa, but this room is still perfect as a private room for one person or for couples.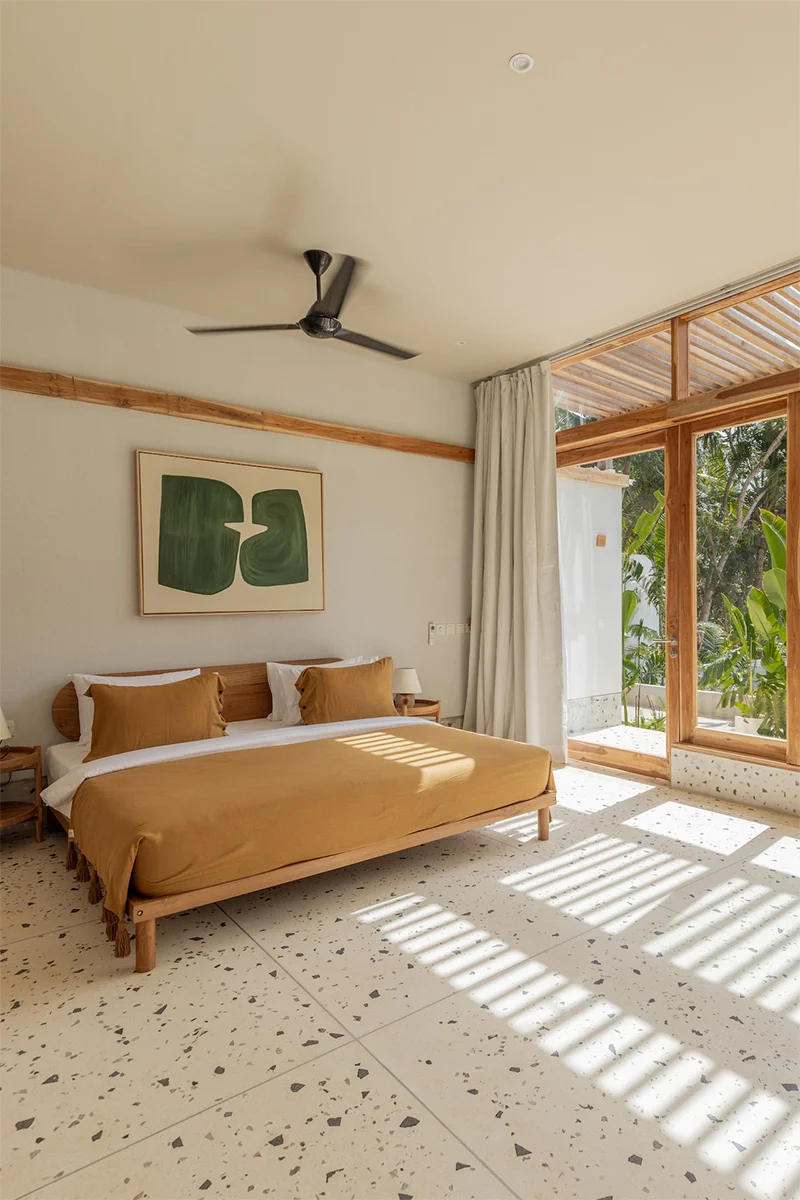 Deluxe Extra King
Deluxe Treatment
The best, most super-duper deluxe room we have. An extra large bed, an outdoor bathtub, spacious a heck. It's a guest favourite and comes with a bunch of complimentary perks for 7-night bookings (2 massages, 1 bottle of wine, airport transfers and welcome fruit platter).
Facilities
All our rooms include:
E

Comfortable large bed

E

Big desk

E

Minibar

E

Tropical outdoor bathroom with a rain shower

E

Wardrobe

E

Safety box

E

Private terrace

E

Sitting area

E

AC and Fan

E

Soundproof

E

Floor-to-ceiling windows

E

Blackout curtains

E

Minimalist design

E

Coffee & Tea facilities
Meet the Host
Jose is our man on the ground at Xanadu Retreat. And he's here to make sure you have the best time possible. Personable, fun and incredibly social, Jose originally hails from Chile, but he's been in Lombok long enough to know what's what. In short, no matter what you need, Jose is your guy.
Luxury dining… Lombok style
Our restaurant is more than just a place to refuel after a surf. With a variety of seasonal lunch and dinner options plus homemade sourdough bread, pasta and peanut butter, everything we prepare is done with love. Enjoy delicious meals suitable for a variety of dietary requirements and a luxury dining experience with a Lombok twist. See the menu here.
Soothing spa and wellness treatments
Removing those post-surf kinks is just one aspect of our spa. Our main goal is to ensure you slip into vacay mode as soon as possible. And that you rediscover your body/mind balance with massage and facial treatments. We even offer ice bath and breathwork sessions for pulmonauts and budding biohackers who want to keep those neurons firing. Check the spa menu here.
Yoga shala with ocean views
Yoga sessions with ocean views? That's a yes! Our bright and airy yoga space is available for both individual practice and lessons – take your pick. All lessons are included in your package and the studio is equipped with everything you need from mats to bolsters, straps and even balance boards and Swiss balls.
Ice bath & ice immersion workshop
Deliberate cold exposure can increase energy and focus, builds resilience & grit, enhances your mood (it sounds crazy, but it's true!), increases metabolism and speeds up physical recovery. Our 2-hour ice immersion & breathwork workshop will teach you how to use the ice bath in the most effective way and how to prepare your body and mind for it. It will give you great foundations to be able to continue the ice immersion journey on your own later on.
Dreamy infinity pool and lounge area
Be prepared to leave with a PhD in chillaxing thanks to our infinity pool and lounge area. Kick back and lap up that Lombok sun or stretch out in the shade on our comfy sofa beds. It's a great place to relax or mingle with other enlightened folks from around the world. Chill, sleep, swim, repeat. Not bad, right?
Xanadu Retreat Surf & Yoga Packages
All-year Round Surf & Yoga Retreat
Retreat in Xanadu Boutique Retreat
Yoga & Wellness Retreat
Retreat in Xanadu Boutique Retreat
All-year Round Longboard Retreats
Retreat in Xanadu Boutique Retreat and Xanadu Village
Special Longboard Week
Retreat in Xanadu Boutique Retreat
How far are you from the town centre?
It only takes 5 minutes to reach the town centre on our free shuttle.
Can I book a room without a package?
Can I check in/ check out any day?
Check-ins and check-outs are on Saturdays only.
What is the best day to check in / check out?
At Xanadu Retreat you can check in and out on Saturdays.
How does Xanadu Retreat differ from Xanadu Village?
While both locations offer a well-rounded surf and yoga experience, Xanadu Retreat is more like a luxury resort and a surf house rolled into one. It's got the infinity pool, the yoga shala with ocean views, its own restaurant and a spa. You can also book Yoga & Wellness packages at Xanadu Retreat, which isn't the case with Xanadu Village.
Do you accommodate solo travellers?
Yes! Many of our guests travel solo, so you can expect a warm welcome and to meet lots of likeminded people.
I'm a freelancer. Am I able to work during my stay?
Of course! There's plenty of downtime for you to work between surf and yoga sessions (which are of course optional). It's also a super quiet and light-filled space with great Wi-Fi, which is pretty much the freelancer-focus trifecta.
Xanadu Surf & Yoga Boutique Retreat FAQs
We've selected the most frequently asked questions about Xanadu Retreat. If you have more questions, visit our FAQ page, where you will find more information about the location and the packages offered.